Mind Australia and The Haven Foundation will build eight new residences for people living with significant mental health and wellbeing challenges throughout Victoria. 
The eight new developments – part of the Homes Victoria $5.3 billion Big Housing Build – will create more than 106 homes and provide high quality, long-term housing with support so that they can work on their mental health recovery and live life to the fullest. 
The new Haven residences will be located in Kilmore, Colac, Frankston, Corio, Sunbury, Wodonga, Wonthaggi and Traralgon. 
The funding commitment was announced by the Minister for Housing, Colin Brooks MP at the site of the nearly completed Haven Ballarat West on Thursday 15 June. 
Haven residences feature one-bedroom self-contained homes with a main bedroom, built-in wardrobe, bathroom, kitchen and eating area, European laundry, lounge room and outdoor courtyard or balcony within a multi-unit property. 
These developments will also feature shared indoor and outdoor community living and lounge areas, kitchen, meeting spaces and overnight facilities on-site for Mind Australia's around-the-clock specialist mental health support staff. 
This integrated social housing and support service is a partnership between Mind and community housing provider The Haven Foundation – a subsidiary of Mind. 
Mind CEO Gill Callister said Haven residences help reduce hospitalisations for people with significant mental health and wellbeing challenges. 
"The Haven Foundation residences have been shown to reduce hospitalisations and homelessness for people with mental health concerns, providing stability and security and recovery focused support," Ms Callister said. 
"These residences enable people with significant long-term mental health issues to lead successful and fulfilling lives in the community. 
"Mind Australia and The Haven Foundation commend the Victorian government and Homes Victoria for investing in this model of support and recovery for people with mental ill-health in communities throughout the state." 
Each new Haven residence is expected to generate jobs for more than 100 local sub contractors and suppliers. New Haven residences also generate approximately 10 ongoing jobs for mental health sector workers. 
These residences enable people with significant long-term mental health issues to lead successful and fulfilling lives in the community.
There are currently six Haven residences in Victoria located in Frankston, South Yarra, Highton, Epping, Laverton and Mooroopna. 
A further five are currently being built in Drouin, Ballarat, North Bendigo, Seymour and Pakenham (applications for these residences are now open). 
Planning is also underway for the first Haven residence in South Australia and the New South Wales Labor government has also committed to building the first three Haven residences in the state – with the first to be built on the Central Coast. 
"We are so pleased to see the commitment to build new Haven residences from state governments across the country," Ms Callister said.  
"The continued investment recognises the value and importance of the service we provide to people with significant mental health and wellbeing challenges. 
"We look forward to being able to support more people than ever before through this genuinely effective model of housing with support." 
Haven residents receive Housing with support services for assistance with activities of daily living which are funded by their NDIS packages. Mind's qualified and experienced staff provide support for residents. 
Mind staff include peer practitioners who use their own lived experience of mental health and wellbeing concerns to connect with clients and inspire their recovery journey. 
The Haven Foundation and Mind also promote and support the involvement of family, friends and other carers in the lives of residents, as appropriate to each person's needs. 
Mark Heeney, Mind Executive Director of Housing Strategy, said The Haven Foundation conducts extensive research before selecting locations for Haven residences.  
"Locations for Haven residences are chosen based on the need of the local region for mental health support of this kind," he said.  
"Specific sites are chosen to ensure proximity to shops, public transport and other amenities. This is important as we know that an important part of a person's recovery is being able to manage daily activities, rebuild and maintain connections, engage with education and employment, and participate fully in the community.  
"These things help people take positive steps in their recovery journey." 
Image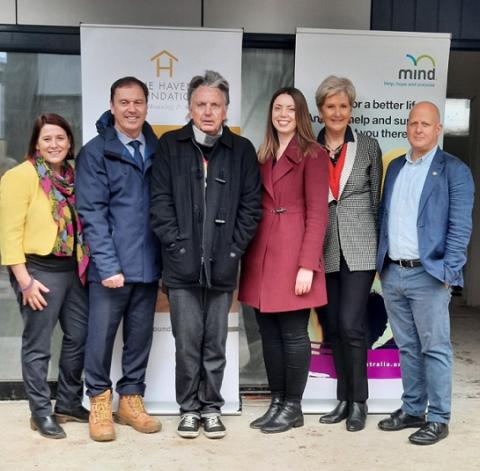 Pictured (L-R): Member for Wendouree Juiliana Addison MP, Victorian Minister for Housing Colin Brooks MP, former Haven Foundation resident Ross Tully, Member for Ripon Martha Haylett MP, Mind Australia CEO Gill Callister and Mind Australia Board Director Jeremy Coggin at Haven Ballarat West on Thursday 15 June 2023.
If you would like more information about Mind services, please contact us by submitting a form via Mind Connect or phone: 1300 286 463. 
If this information raises concerns for you, please call Lifeline on 13 11 14. Aboriginal and Torres Strait Islanders can also call 13 YARN (13 92 76) a 24/7 national crisis support telephone service staffed by Aboriginal and Torres Strait Islander peoples.